Oh no!  It's the Holidays again!
For many of us, the Holidays are one the most stressful and challenging times of the year.  Family, loneliness, gifts, parties, the outlaws…it can all be so overwhelming!
Taking care of ourselves and managing our stress levels is so important during this busy season.  Here are 3 simple tips you can practice to help take better care of yourself through the holidays:
Plan ahead
Manage expectations
Breathe
Plan ahead: How many of us are guilty of leaving everything to the last minute?  Taking the time to sit down and plan our holiday schedule can go a long way to reducing stress.  Use a calendar such as the one on your mobile device to enter important dates and commitments, even your shopping time.  Scheduling can help avoid last minute rushing around, and those awkward double-booked gatherings.  Give yourself permission to schedule "me time" so you can rest and recharge your batteries.
Manage expectations: We say it a lot but "keep it simple".  With all the pressure to entertain and shop for just the right gift, we highly recommend "the simpler the better" over the holidays.  People are so appreciative of a thoughtful card, and some words or acts of love and encouragement more than expensive gifts.  Simply serving others is often the best way to care for ourselves. Plan a simple meal like pizza and a movie in PJ attire.  Managing expectations not only reduces your stress but can also reduce the stress levels of those around you.
Breathe: Practicing some form of relaxation over the busy holidays is one of the best ways to care for yourself and manage stress.  Soothing music, prayer and meditation, breathing exercises, a simple walk in the park or forest, are all ways that you can decompress and relax.  It is important to intentionally plan and schedule these times throughout our week especially in the holiday season.  A simple gift of 10-15 minutes a day to yourself can go along way to calming and reducing holiday anxiety.
So, remember, its normal to feel stressed and overwhelmed at this time of year.  Self care is an essential part of getting through the holidays.   If we plan ahead, manage expectations, and remember to breathe, we may even find we are able to have some much-needed moments of joy and peace.  If you or a loved one need additional support to mange this time of year, please consider reaching out to us at LifeCare.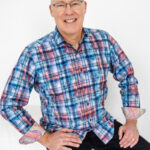 Scott has been a Marriage and Family Therapist in private practice since 1993. He completed his undergraduate studies in psychology and his master's level training in Marriage and Family therapy. As the Executive Director of LifeCare Centres since 2012, Scott provides vision, leadership and direction to the organization. Scott is passionate about developing his team at LifeCare to realize and reach their full potential. His desire is to equip them to reach out into our surrounding communities with counselling and psychological services of the highest quality and standard.
Scott brings to his leadership position extensive experience from his work in the areas of: couple conflict and communication, addictions and compulsions, depression and anxiety disorders, anger management, building emotional/relational life skills, survivors of abuse and trauma, men's issues, parenting, and family conflict resolution. His experience in the therapeutic arena includes over 25,000 hours of clinical work with individuals, couples, and families.
Scott is passionate about the privileged opportunity he has in his role as Leader and Director. His daily focus is to be used as an instrument of encouragement, challenge, and inspiration to the team he leads at LifeCare. Scott is committed to building a team that is held to the highest standards of client care and professional treatment within the field of psychotherapy and psychological services.
Scott also provides seminars, workshops, and conferences in his areas of focus. He is a dynamic and challenging speaker who shares both from his personal and clinical experience when engaging his audience. His talks and presentations are informative and practical. Scott is very committed to providing his participants with a combination of knowledge, experiential learning and tools and strategies for application in everyday life.
Scott is passionate about embracing the unique blessings and challenges that come with marriage and the raising and launching of three adult children. Scott makes time for rest and relaxation in the solitude of nature and the joy of music.