How to help your loved ones understand your ADHD
Attention Deficit Hyperactivity Disorder (ADHD) is a neurodevelopmental disorder that affects millions of people worldwide. People with ADHD may have difficulty with attention, impulsiveness, and hyperactivity. It can be a challenging condition to live with, and those who love someone with ADHD may struggle to understand the difficulties that come with it. However, with some effort and understanding, it is possible to help loved ones better understand ADHD and support those who have it.
Educate Yourself and Your Loved Ones
The first step in helping loved ones understand ADHD is to educate yourself and your loved ones about the condition. Since there is a lot of misinformation on the topic, rely on reputable sources to learn the facts. Start by learning the basics of ADHD, including the symptoms, causes, and treatments. You can also educate your loved ones by sharing articles, books, and other resources.
Be Open and Honest About Your Experiences
It's important to be open and honest about your experiences with ADHD.  How and when does ADHD show up in your daily life? This sharing of specifics can help loved ones understand what you are going through and how they can support you. Explain by giving examples. Include the difficulties you face and how you cope with them. Try to be patient and listen to their questions and concerns and answer them as best as you can. You are the expert on your own experience living with ADHD.
Encourage Understanding and Compassion
Although you cannot enforce it, encourage your loved ones to be understanding and compassionate towards you. Explain that ADHD is not a choice, and that you are doing your best to manage your symptoms. Let them know that you appreciate their support and understanding.
Set Boundaries and Establish Routines
Having a routine and structure can help you better manage ADHD symptoms and feel more in control. Encourage your loved ones to help you establish routines and set boundaries. For example, you can set aside a specific time for working or studying, and take breaks as needed. Having a structured routine can help reduce stress and increase productivity.
Seek Professional Help
If you or your loved one is struggling with ADHD, it may be helpful to seek professional help. A mental health professional can diagnose and treat ADHD, as well as provide support and guidance. You can also seek support from support groups and online communities to connect with others who are dealing with similar challenges.
Helping your loved ones understand ADHD requires patience, understanding, and education. Your willingness to share your story, your successes and your struggles, helps others to help you. By working together, you can support each other and help everyone better understand and manage the challenges of ADHD. Remember that you are not alone, and there is help available.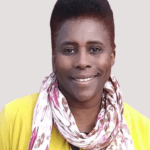 Vilma is a member of OAMHP (Ontario Association of Mental Health Practitioners); an RP, Registered Psychotherapist, with CRPO (College of Registered Psychotherapists of Ontario) and a retired teacher/counsellor with the Toronto District School Board. She taught high school for over 25 years and developed extensive experience working with at-risk youth and their families. This unique teacher/counsellor background equips her to work with both adolescents and adults.
Vilma works primarily with issues related to anger management, anxiety and depression, grief and loss, stress management and burn out.
Trained in Narrative, CBT (Cognitive Behavior Therapy) and Solution-focused therapy, Vilma listens attentively to the multiple stories of clients' lives to help them see patterns and make connections that bring about change and growth. For clients who prefer a more goal-oriented counselling process, Vilma is also skilled in helping them clarify goals and move towards finding solutions.
In addition to doing individual counselling, Vilma also has experience facilitating group- therapy sessions and has worked with teen girls and women struggling with emotion regulation. She is also a trained facilitator in Conflict Resolution through Restorative Circles.
With her warm and engaging manner, Vilma brings a combination of deep compassion and a gentle sense of humour to provide a refreshing perspective on difficult issues.
Vilma and her husband, Grantley, have been married for 38 years and have two grown children. A published writer, Vilma enjoys writing and gardening.